Ekalavya–Life and Death of the Prince of Nishadas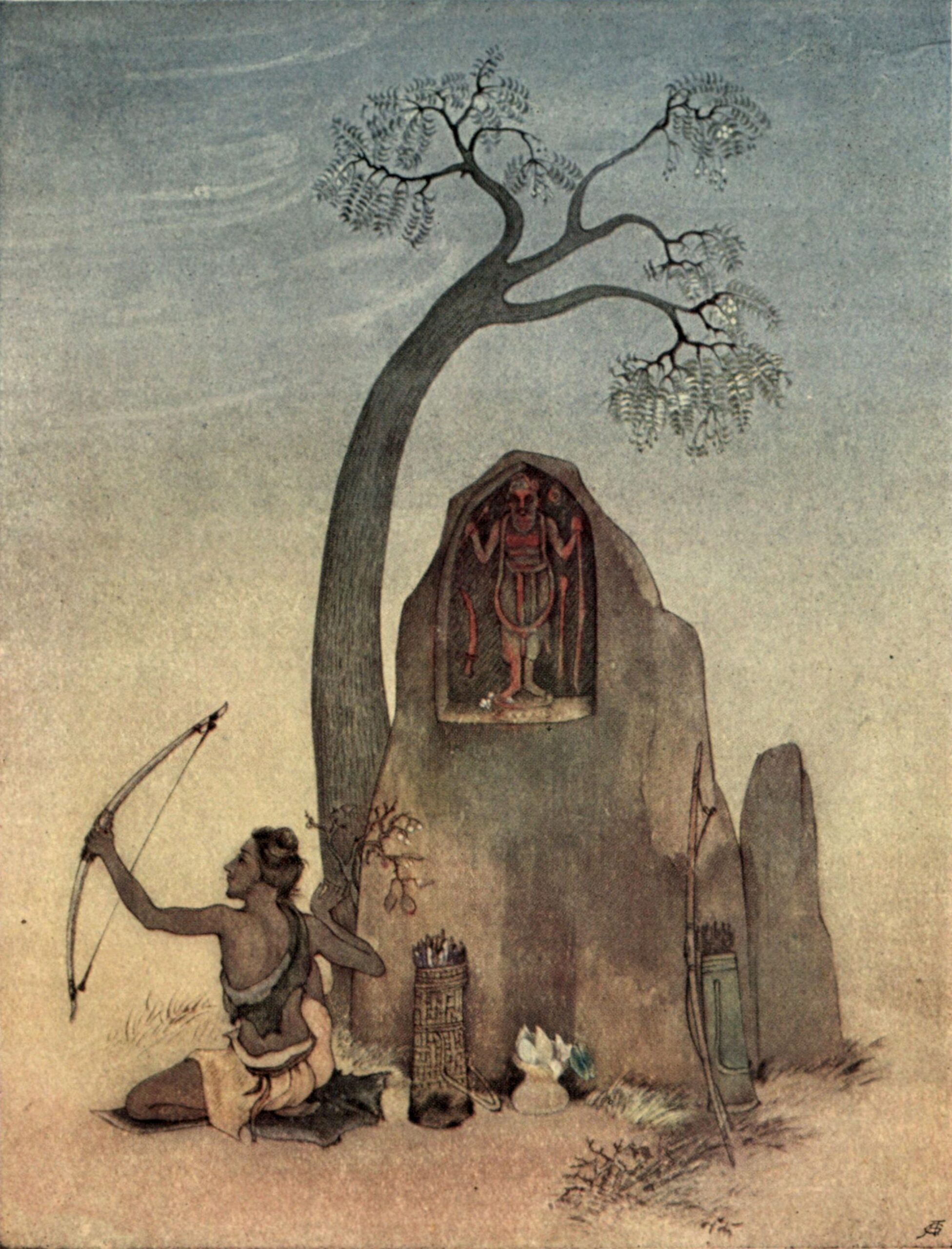 Ekalavya, a Nishada prince, was one of the best archers who lived in the time of the Pandavas. Ekalavya is still remembered for his complete dedication as a student and for the Guru Dakshina or offering he made to his teacher or Guru, Drona.
   Ekalavya wanted to be the best archer and he wanted to be trained by the best teacher–Drona. Drona, however, refused to teach him because Ekalavya was a Nishada. But a determined Ekalaya wasn't ready to give up. Ekalavya's actions put to test Drona's relationship with his most favored student Arjuna. Arjuna did not accept a threat to his position as the best archer around!
   Ekalavya was the son of Nishada King, named Hiranyadhanu, who was the general of the very powerful King Jarasandha, the king of Magadha. The term Nishada was used by the Indo-Aryans to identify the indigenous tribes who were not Aryans. They were a fishing and hunting community and lived in the mountains and in the forest.
   Ekalavya was ambitious–he wanted to be the best archer he could be, and he wanted to train under the best of the best, who, at the time happened to be Drona. So, Ekalavya went to Drona and asked to be accepted as his student. But, Drona turned him down as he was a Nishada and the son of Hiranyadhanu.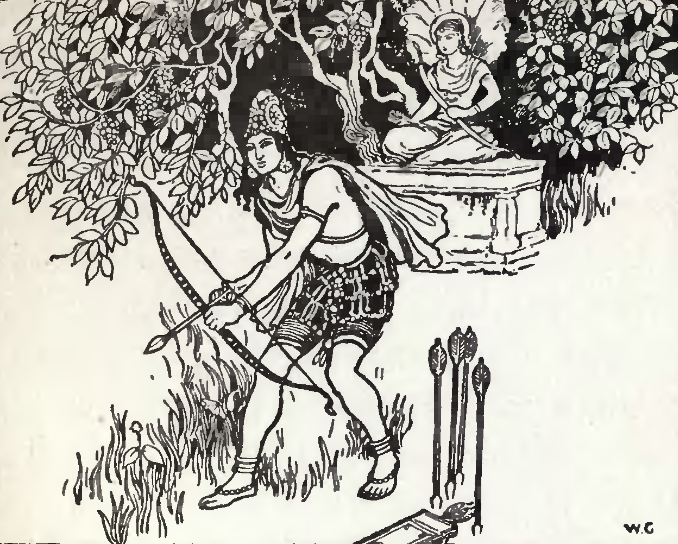 Ekalavya was disappointed. However, he refused to give up on his dreams. Ekalavya went to the forest and made a statue of Drona from clay. He worshipped Drona's statue to derive inspiration for his training and dedicated all his time and efforts into training himself to become an excellent archer.
   One day, the Pandavas went on a hunting trip, they were in the forest accompanied by servants and a dog. The dog found a stranger and started to bark at him. When the poor dog returned and the Pandavas saw that the dog had 7 arrows in it's mouth, they realized that this was the work of a skillful archer. The Pandavas were amazed by the individual's obvious talents. They went in search of the archer and when they found him, they asked him who he was.
   They were stunned when the archer introduced himself as Ekalavya and a disciple of Drona. 
   The Pandavas went to Drona and told him what had happened. Arjuna asked him how is it that he had trained a better student when he had promised Arjuna that he would be his best student.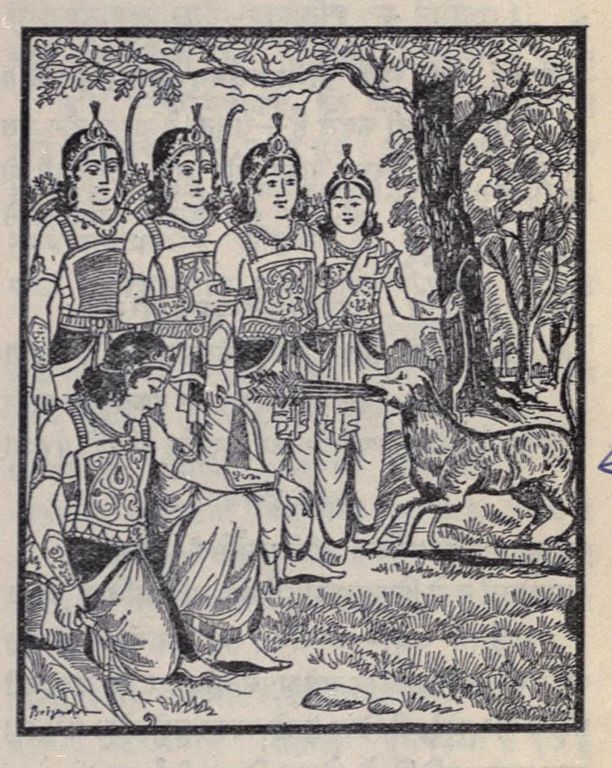 Drona was confused. He decided to check the situation on his own, accompanied by the Pandavas, he went to visit Ekalavya. After listening to Ekalavya's explanation, Drona demanded Ekalavya's thumb as Guru Dakshina or offerring. Without a moment's hesitation, Ekalavya cut his thumb off of his right hand and offered it to Drona. 
   This is the story of the brave and talented Ekalavya.
The End
References:
The Mahabharata 1: Complete and Unabridged; translated by Bibek Debroy. (2015). Penguin Random House India. (Original work published 2010)
Images:
Author Sister Nivedita and Ananda Kentish CoomaraswamyIllustrator  Nandalal Bose, Public domain, via Wikimedia Commons
Warwick Goble (d. 1943), Public domain, via Wikimedia Commons       
Ramnarayandatt Shastri Pandey, Public domain, via Wikimedia Commons.      
Unknown artistUnknown artist, Public domain, via Wikimedia Commons